Adding theStand MultiDesk to Your Life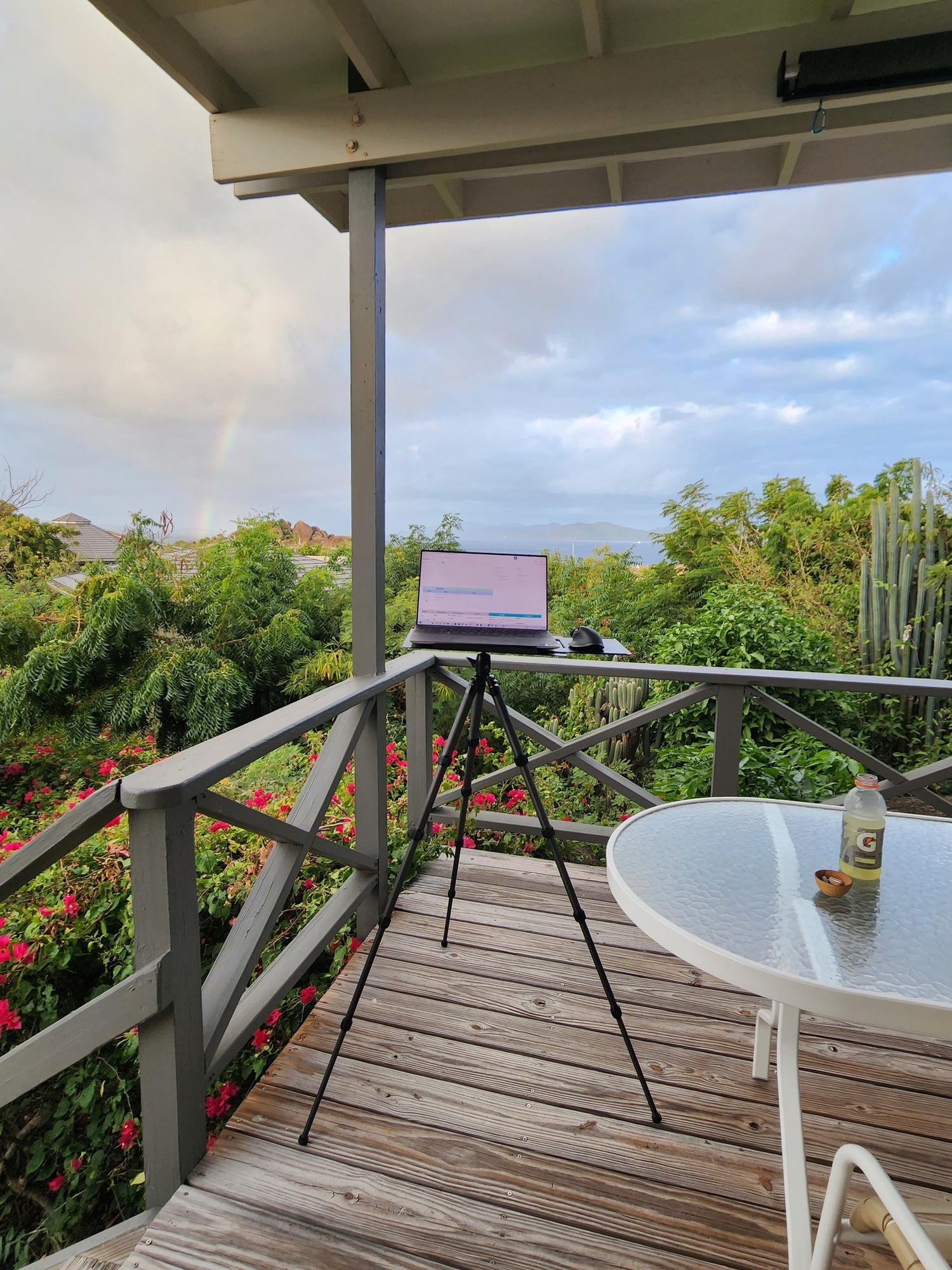 Stand? Sit? Zoom? Home? Office? Kitchen? Park? Desk?
Your Choice!
As more and more people transition to remote and hybrid work, the importance of having a comfortable and efficient workspace has become increasingly evident. Whether you're working from home or on the go, the right tools can make all the difference. That's where theStand MultiDesk comes in - a game-changing, Carbon Fiber Desk that is perfect for working anywhere and any way you want.
theStand MultiDesk is a stunning and capable desk that is designed to be incredibly lightweight, super strong and stable at any height, any angle, and on any surface. With its sleek carbon fiber construction, the desk is featherweight and easily slips into your laptop bag, making it the perfect companion for anyone who needs to work on the go.
One of the standout features of theStand MultiDesk is its incredible versatility. Whether you're standing or sitting, working in a coffee shop, on a park bench, or in the comfort of your own home, the desk can be easily adjusted to the perfect height and angle. This means you can work in a comfortable and ergonomic position, reducing the risk of strain or injury.
Another benefit of theStand MultiDesk is its ease of use. With its simple and intuitive design, the desk sets up in seconds, allowing you to get to work quickly and efficiently. And when you're done, it slips right back in your laptop bag or backpack.
But the benefits of theStand MultiDesk go beyond just convenience and ease of use. By giving you the freedom to work from anywhere, the desk can help you break free from the confines of a traditional office space. This means you can enjoy a healthier, happier, and more productive work life, with the ability to move around and work in a variety of different environments.
theStand MultiDesk is perfect for anyone who wants to add a little oxygen to their daily work routine. Whether you're a digital nomad, a remote worker, or simply someone who wants the freedom to work how and where you want, this Carbon Fiber Desk is an essential tool that will help you stay comfortable, productive, and healthy. So why wait? Invest in theStand MultiDesk today and experience the amazing benefits for yourself.
The Science of Healthier Working (by Caroline Williams)

In this Guest Blog, Caroline Williams, acclaimed science journalist and author of Move: how the new science of body movement can set your mind free, tells us the science behind how little movements can change the way you think and feel.

Dark Arrival gives way to a Bright Future of Work

In fact, no human was in sight as the same machines that will automate tens if not hundreds of millions of jobs in the coming decade, sent out the notices.